JACOB BARBOA - Sales Manager, Jaber Motors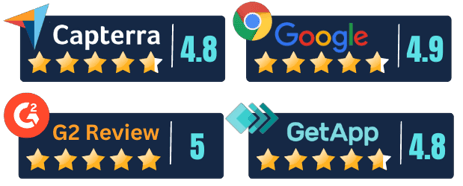 We use this Automotive CRM daily, it is such a great tool to help us keep track of all of our clients efficiently! There is no other used car dealer software out there that even compares! Archie is the MVP of the team; He is so easy to work with, knowledgeable & really does an awesome job making sure that we fully understand this software & all of the ways we can utilize it.

Joanne Reeves
Redemption Auto Sales

Pros: The best part of this software is that it has ALL of the functionality of ANY Automotive CRM for a fraction of the cost. Nearly all the same features, 1/10th of the price. Mainly, Selly is built with the power of large dealership CRM for the smaller independent budget. Much better interface and more CRM driven.

DealerCarSearch is a website company. Selly is a CRM company. We are able to easily contact and manage prospects with this user-friendly CRM. It's clean, easy to use, and easy to understand.

Cons: There are a few minor features missing from the software, however, these are all confirmed to work in progress at this time!

Jeff Long
Owner | Noblesville Imports

Pros: The software is easy to maneuver. My guys really like it. Less expensive, Excellent overall experience

Lisa Rosselli
Finance Manager / Office Manager | RPM Motors LLC

Pros: They ask important questions to understand the issue and tackle the problem immediately which is crucial.

Mario Francis went above and beyond for me. Even during the process, he called to assure me that although he did not have an answer just yet, he had not forgotten our troubleshoot problem. That's dedication.

Cons: Nothing, the team over at Selly really take pride in their work ethic and it truly shows.

Rosa Cueto
Sales Representative

We have used a few different CRM in the last 3 years and selly is very simple to use and has a lot of features. They have excellent customer support and customer success, I would recommend 100% to any dealership.

Luis David Tudares Suarez

Pros: The easy to us web and mobile apps are helping with entering new customers and keeping track of potential customers. Texting features being integrated allow tracking and reviews of messages! Upcoming FB integrations and core feature enhancements are exactly what we asked for!

We'd found the DealerSocket CRM too complicated for our team and some integration like a DMS push for complete credit apps never did work as promised. Overall very positive! Great support from Steve, Jenn, and the team at Selly! We selected Selly after comparing 5 packages and after a failed DealerSocket CRM deployment, which followed a failed DealerCenter DMS/CRM deployment... overall a very easy set up for us, we fast-tracked the install and training and loaded 5K+ past records!

Cons: It always would be beneficial to have more DMS interfaces to post-sale info into a CRM than the manual marking of sales... we are using DealerSocket IDMS

Terry Treece
Internet Sales | Action Motors

The CRM is easy to use and has made following up with customers effective. Customer support is very helpful and available to assist and answer any questions. It is a simple CRM and not cluttered with unnecessary info or gadgets.

Dillon
Sales Manager

Pros: Simple, easy to use, and very competitively priced. We've been with the company since their inception. We see continuous improvement on the product. The recently integrated with Frazer DMS. Now all of our sold feed is can seamlessly be sent to selly to track sales and leads. I would recommend this CRM to any dealer that is looking for a basic reliable CRM that has tasking, and email ability.

Cons: Customization is limited. So if you want something super fancy customized to your dealership it probably won't happen overnight.

General Manager

Steve was excellent to work with from start to finish! The product is above and beyond my expectations and the training was very hands-on so that my whole team was up to speed within a few short days. Thank you, Selly.

Michael ONeill
Sales Manager